What is a festival? The evolving role of festivals across centuries, societies and geographies has made it difficult to pin down one definition, sparking morphological studies and academic ping-pong on the subject instead. From duration and frequency to its capacity to alter geographic space. From its contribution to talent export to the opportunity it presents for community convergence and assembly. The festival, as a core component of our creative industries and cultural life, is yet again being redefined.
Festivals and value
Festivals continuously reflect the changes occurring within the cultural and creative ecosystem and stretch the limits of the definitions imposed on them. Much more than presentation platforms for the arts and creative industries, they fulfil multitudinous functions, embracing sophisticated educational, community and wellbeing initiatives, while simultaneously using a variety of mechanisms to address sustainability issues of global significance.
The Adelaide Festival, established in 1960, has recently gone carbon neutral, achieving this status with Climate Active. Since its inception in 1974, the DreamBIG Festival (previously Come Out) has provided over 2.5 million children and young people with access to arts experiences, often overcoming barriers to cultural participation for lower-income schoolchildren and families. The Adelaide Fringe celebrates and supports Aboriginal and Torres Strait Islander artists by establishing the annual First Nations Collaboration Fund, which aims to boost participation, representation and access to the opportunities offered by the Fringe marketplace. The South Australian Living Artist (SALA) Festival provides incomparable income generation opportunities to local and regional visual artists, at a time when commercial galleries are experiencing challenges and closures, helping to bring in over A$1 million in art sales in just one month.
All of Adelaide's arts and cultural festivals provide value well beyond the standard preconceptions of what a festival is and what it accomplishes for society and sustainability.
Festivals and economic impact
Cultural and creative activity in Australia contributes A$111.7 billion to its economy or over 6 per cent of the country's GDP (2016 – 2017). Employment in creative industries has been growing 40 per cent faster than the Australian economy as a whole, and the industry equates to over A$3.2 billion in total export annually. As of October 2020, the estimated economic contribution from Australia's festivals is A$2.7 billion.1
In the state of South Australia, which has a population of approximately 1.67 million, the impact of Festivals Adelaide (FA) members on gross state product in 2019-2020 was an estimated A$116.7 million. Festivals Adelaide is an industry alliance of 11 arts and culture festivals, which works to strategically position, develop and advance the festival sector, as well as enhance its public benefits for the City of Adelaide and state of South Australia. The association collectively created 1,089 jobs (full-time equivalent – of course many of these jobs are part time and short term in nature), while the current return on investment is A$1 of government investment to A$6.1 of new incomes into the state.
In light of the diverse functions and activities that festivals deliver consistently throughout the calendar year, Festivals Adelaide has reviewed how it can systematise, strengthen and grow the sector's contribution to the impact economy. The 17 UN Sustainable Development Goals (SDGs) offer both a framework and blueprint for harnessing the growth and development action necessary for a sustainable present and future. As the examples above show, the alignment with the SDGs among festivals is already significant. But a more coordinated and strategic focus would provide an important avenue for the maturation of the sector. As the recent UCLG publication titled Culture, Cities and the COVID-19 Pandemic outlines in its conclusion, culture and cultural policies do not yet account fully for the potential for environmental sustainability, social inclusion and economic development they can bring about. There is room to grow.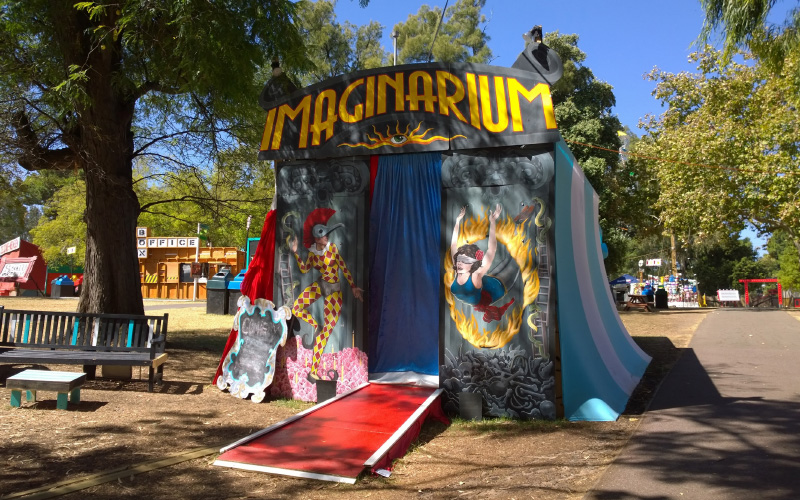 At Festivals Adelaide, we've adopted the SDGs as a type of metaphorical phoropter – the instrument that lets an optometrist switch up lenses and manually determine exactly how a lens must be shaped in order to improve one's vision, or in our case, our impact on society, culture, industry, economy and environment. Through this process, we've identified eight priority SDGs for festivals to strategically align with: Good Health & Wellbeing (3), Quality Education (4); Decent Work and Economic Growth (8); Industry, Innovation & Infrastructure (9); Reduced Inequalities (10); Sustainable Cities and Communities (11); Climate Action (13); and Partnerships for the Goals (17). Using this eight-lens phoropter, we investigate where the impact is being delivered and where it can be amplified – signalling both our strategic readiness and willingness for progress. For example, the lens of reduced inequalities has led us to collectively strategise about reducing the barriers to festival and arts participation for culturally and linguistically diverse communities and we are in the process of consulting on and developing an action plan. As the festival sector recognises its ability to become a stronger player in the impact economy, new opportunities will inevitably arise, including the approach and the mechanisms used to study the impacts and value of festivals across public good and policy areas.
At Festivals Adelaide, we believe that festivals are instruments that reflect the best and most optimistic version of a place. They mirror back to us the need for community, communion and the communal. As such, we aim festivals at the social, cultural, economic and environmental goals we hope to achieve, fully expecting them to meet the challenges of sustainability and be leaders of change as the reliable sources of invention and impact that they are.