Arts and Homelessness International (AHI), in partnership with the British Council and Calouste Gulbenkian Foundation, is running a five-year project to develop the arts and homelessness sector in the Global South. This project seeks to expand their current network of organisations using the arts to bring positive change to people, projects and policies impacting homelessness. Throughout the initial research phase, we have engaged in thought-provoking conversations with over 100 different artists and organisations in the Global South, who have shared their stories of resilience, solidarity and transformation. With a diverse range of people from Rwanda to Mexico, artists are advocating for the right to adequate housing through their creative capabilities.
Where neoliberal economies and inadequate social systems have left many living in vulnerable conditions, our research found vast use of the arts to advance social welfare. Many collectives we spoke to are creating an economy that uplifts their communities by ensuring environmental, social and economic gains are equally balanced and maximised. A group of young creatives from Mathare, Nairobi's second-largest informal settlement, are paving the way for a creative economy that shapes a more equal and sustainable society.
Mathare was a centre for the Mau Mau freedom fighters' struggle for Kenya's independence from Britain. Since then, it has been ostracised from the political sphere and the government has failed to implement sustainable socioeconomic programmes in the region. Housing rights are precarious, with the settlement constantly experiencing forced evictions and militarised security that criminalises its youth. However, the orchestrated oppression fails to prevent Mathare from being a soulful and vibrant community. It is home to thousands of gifted creatives, brilliant thinkers and vigorous social justice activists who are using their skills to develop alternative modes of living that care for the environment and cater to the community's socioeconomic needs.
Local artists formed Mathare Empire (ME), an entertainment label, in 2016, recognising a strong need to unite and provide a platform where they could grow collectively and discuss issues that impact their community in a palatable way. The label recognises the ability of the arts to transcend the capitalistic ideology of material growth, as art speaks to the depths of our souls by affirming our experiences, tending to our wounds and offering alternative ways of living.
ME partners with the Mathare Green Movement, and together they share the philosophy of 'Mathare Futurism', which is the idea of using the imagination to envision and work towards possible realities for Mathare. This philosophy is channelled throughout all of ME's creative activities in order to generate social change, implement community-based solutions and positively impact the mindsets of Mathare residents. Members of ME use their art to illuminate the need for change, paint a picture of what transformation can look like and provide practical steps to make their imaginations a reality.
On April 21 – World Creativity and Innovation Day – Zero Point Zero, ME's audio-visual podcast aimed at finding community solutions to injustices, conducted a segment on Kenya's creative industry. Throughout the session, creatives exchanged stories of their experiences.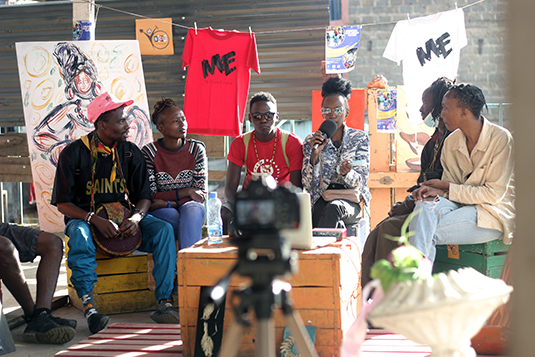 The Kenyan creative industry is controlled by few entrepreneurs whose power allows them to choose who reaps the benefits of market share. Many creatives are disregarded in this process and find it challenging to depend solely on art for their livelihood. One artist told us about a time they were called to perform at a high end, profitable TV programme. The performers weren't reimbursed their expenses for transport once the performance ended. Instead, they were told they were lucky to be given a 'platform'. This was just one of many similar stories of how artists are exploited. In response, ME's artists are working to build an alternative creative industry: one that isn't solely focused on individual growth but centres their community's livelihoods and wellbeing.
Creative hubs of Nairobi are often found in the city centre or upper-class neighbourhoods, areas that many Mathare residents find inaccessible. ME understands the importance of creating cultural spaces within the community – made by the community, for the community. Through collaborations, capacity-building workshops and skill-sharing initiatives, ME is working towards becoming a sustainable independent label.
ME's economic philosophy recognises the benefit of sacrificing short-term individual gains for long-term collective profit. Members pool individual resources to accumulate assets for the label that are leading to sustainable economic growth. Collective funding can be a long process, but ME members understand the importance of becoming a self-reliant label whose decisions are predominantly influenced by and for its members.
Binding their unity is the understanding of how diverse yet interconnected the creative industry is. They recognise the infinite artistic power that resides in Mathare: they have visionary producers, skilled managers, beautiful models, and the list of talent goes on. By combining these diverse skills and uniting them with the philosophy of using art to empower their community, the members create powerful interdependent partnerships, strengthening their creative outputs. Simultaneously, the diversification of products allows the label to tap into different market spaces in an industry in which putting all the eggs in one basket is a high-risk approach.
ME's current assets include an entertainment space, an arts and crafts gallery, studio equipment, an audio-visual podcast, a YouTube channel and ME merchandise. ME's space can be rented for music videos, photo shoots, auditions and other events. The members expand the local economy by investing in studio equipment to produce affordable music for ME's artists and the community. Beyond this, ME's skill advancement initiatives seek to develop business and creative skills to enable the community to best leverage the opportunities that come their way. These efforts are all aimed at financially sustaining the members, building partnerships and polishing their art, as they build an entertainment label for an international audience, while creating an accessible art hub for the community.
These creative processes of restructuring systems and imagining alternative futures are some of the ways in which people are using the arts to make a positive impact in their lives and communities. Through AHI's expansion of its transnational network in the Global South, such diverse perspectives and approaches will come together, increasing opportunities for global collaboration to solve the problems of the day. Our conversations have revealed a keen interest in transnational collaboration. The global similarities of the root causes of inequality, and the diversity of solutions, indicate that there are great opportunities for people around the world to benefit from the power of network building.
Organisations like Mathare Empire play a critical role in demonstrating the power of unity, knowledge exchange and long-term planning. They also illustrate what the creative industry can do for the impact economy: collectively, we can forge alternate futures that holistically care for the needs of communities while supporting similar visions around the globe.
---
If you know of any project, collective, organisation or individual artist from the Global South that is using art to highlight and find solutions to housing injustices and would be interested in being part of the international network, please email our team of researchers at [email protected]
Find out more about Arts and Homelessness International at http://artshomelessint.com
Follow Arts and Homelessness International on:
Twitter: @artshomelessint
Instagram: @artshomelessint
Facebook: @artshomelessint
YouTube: Arts and Homelessness International