NEW INC was established in 2013 by the New Museum, and since then I have been evaluating the success of applying the West Coast model of high tech accelerator/incubator to art and design. The New Museum is itself a new model, founded in 1977 by a female curator to showcase and incubate artwork by women. NEW INC offers artists and designers access to a community of entrepreneurs and creatives, a professional development curriculum to help develop sustainable business models, and access to a fully equipped workspace for prototyping.
NEW INC has shown an accelerating success rate since its founding. In any year, 50 per cent of attendees are women and 50 per cent are people of colour. A second constant has been the development and exploitation of the new technologies of virtual/augmented reality (VR/AR), artificial intelligence and immersive technologies to projects that have social impact. The third is the application of the design and art process to the reframing of established concepts and experiences.
There have been seven groups at NEW INC, with approximately 100 people in each group. Data for groups one through five show 175 businesses were created, 392 jobs created and US$17 million in capital raised. Data for groups six and seven (up until March 2020) will soon be released, but my sense is that the rate of success and expansion accelerated sharply in the last year and a half. My personal estimates are that some 200 hundred businesses have been created, 400-450 jobs created and US$20 million in capital raised.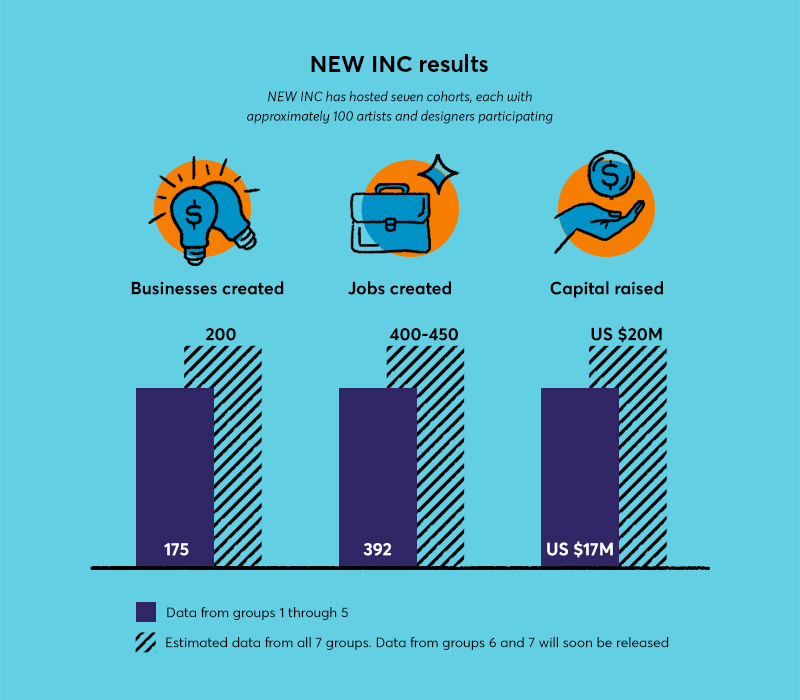 Before COVID-19, the rates of increase in all these variables were rising dramatically as a new director, Stephanie Pereira from Kickstarter, focused on fostering faster growth by bringing in mentors with deep experience in business development, strategy, branding, marketing and capital raising. Significant changes in screening for new applicants have also been made. Whereas the earlier years at NEW INC saw many people searching for the formation of their nascent ideas, the last two years brought in teams with formalised business plans and real businesses.
My work as a mentor has changed from helping people make nascent ideas more concrete to helping people scale, brand and market.
Below are the stories of four companies that were either born at NEW INC or developed at the incubator. I was a mentor to all of them.
New Reality Co
New Reality Co is an award-winning creative studio that writes and produces powerful, socially important, immersive VR films. Its latest film, Tree, has been shown at the UN, the World Economic Forum and around the world in film festivals. Tree's immersive power transforms you into a seed that grows into a huge tree in a rainforest, with brilliant toucans landing on your limbs. You then experience a deadly fire set to clear the forest for cattle ranching and soy farming. I've never experienced anything like it. Commercial work is a growing component of New Reality, which operates out of Los Angeles and New York and was founded by Winslow Porter and Milica Zec. Previously, Porter worked in advertising and Zec was a performance artist before being named to Adweek's Top 100 Creatives in the Digital Innovators Category. They are alumni of the Sundance New Frontier Lab.
Grouphug
One of the hallmarks of NEW INC is the large number of artist-designer/entrepreneurs who break the traditional boundaries of creative business by combining new practice with the old. As a result, they are expanding the size and scope of creative industry, making it both more dynamic and more profitable. You hear 'creative technologist' used by members to describe themselves. When I first started covering innovation at Business Week, that would have been an oxymoron. No longer.
Krystal Persaud's Grouphug designs funny and friendly photovoltaic panels for consumer and business markets. Her Window Solar Charger is a window-mounted solar panel for apartment dwellers to charge their devices off-grid. Persaud, a creative technologist, was a designer of educational toys before applying human-centred design to photovoltaics. Her solar panels, which come in the shapes of cats, turtles and other animals, are pure fun. Persaud can scale for business needs and currently has a 140-watt cat-shaped panel hanging at the New York Hall of Science. She won initial financing on the Shark Tank TV show, and was seeing her market explode before COVID-19 hit. Her biggest challenge is scaling.
Project Inkblot
Project Inkblot is a design consultancy that reframes 'diversity' from a legal issue that companies must comply with to a growth issue that company CEOs want to embrace. Jahan Mantin and Boyuan Gao, the founders, are moving diversity to C-level strategy. They have developed a sophisticated design process, Design for Diversity (D4D), that I believe is the most important new business process since Design Thinking. Pre-COVID-19, Project Inkblot saw a sharp increase in clients and revenues, particularly in the advertising industry. In this moment of protest, Project Inkblot is poised to scale into a new kind of design consultancy. Again, the greatest challenge is capital for scaling.
Studio Elsewhere
Mirelle Philipps uses biophilic design and our innate connection to nature to build regenerative rooms for overwhelmed doctors and nurses treating the COVID-19 virus in Mount Sinai Hospital in New York City. Philipps is a multidisciplinary artist and designer whose work unites culture, science, technology and nature. Her design firm Studio Elsewhere utilises plants, nature sounds, smells, lighting and images to create an environment that helps staff relax and recharge. The potential market for Studio Elsewhere's restorative designs post-COVID-19 in high-stress spaces in health, workplace, public safety and housing
is huge.
These businesses are among dozens I have mentored at NEW INC that evidenced fast growth, products and services with significant impact on society, and great promise – if they can find the resources to scale further. They are unique in the current tech scene in that the founders frame themselves as creative technologists, not simply engineering techies. They are from communities vastly underrepresented in the startup scene, bringing diverse backgrounds in design, art and science to their startups. They have important social as well as financial goals for their companies. At scale, they could have a huge impact on society.
Investing in these young founders and their companies is a wise social and financial decision, especially for those museums, schools and other cultural institutions that are already aligned with the creative economy. It is a significant tool to reinvent and revitalise our
economic system.